Share this item with your network:
Defending the digital infrastructure

Grafvision - Fotolia
Evaluate
Weigh the pros and cons of technologies, products and projects you are considering.
What EMM tool is on your short list?
EMM vendors consolidate tools for enterprise mobility management, covering device, application and even identity management, into 'single-pane-of-glass' management consoles.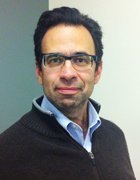 By
Enterprise mobility management is gaining importance as organizations move toward a perimeterless model of security. Endpoints are no longer just enterprise-controlled PCs, as laptops, smartphones and other devices can now be operated anywhere in the world. But EMM is not a monolithic product so much as an approach to managing and securing the endpoints with mobile device management (MDM), mobile application management (MAM) and mobile information management (MIM); even identity access management (IAM) and advanced threat protection are starting to be incorporated into some EMM tools. With more enterprise computing happening on BYOD -- used by employees, contractors and partners -- securing all those devices with an EMM tool strategy is even more critical.
Most of the 6,498 readers from North America that TechTarget surveyed are already facing the need to manage use of iOS and Android mobile devices within their organizations, both corporate issued and user-purchased: 74% reported they have iOS devices and 70% have Android phones and tablets. Even the less-dominant Microsoft Windows Phones and BlackBerry devices are accessing corporate networks in large numbers with a healthy 29% and 28%, respectively.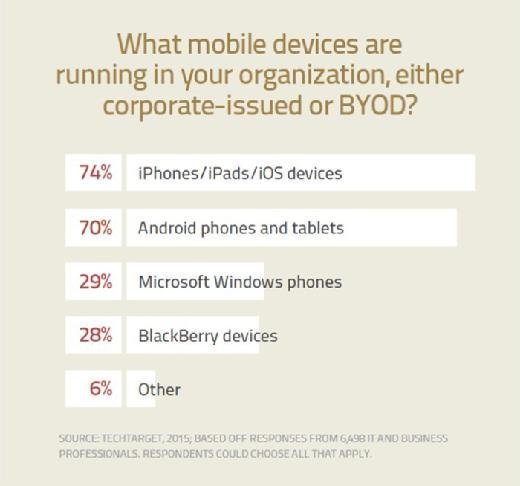 It's a good time to be considering an EMM tool strategy in the enterprise, notes Lisa Phifer, president of Core Competence Inc. "Today, market leaders seem to be integrating with enterprise identity management, making it easier to automatically apply the right policies and applications to each user," she says. "Tomorrow, those same companies may provide new tools to automatically track and control the flow of data across multiple devices, and public and private cloud services."
For now, enterprise buyers have lots of choices for EMM. "It's very crowded in this market, especially at the top," says Christian Kane, analyst with Forrester Research. The companies that control the operating systems -- basically, Google (Android), Microsoft (Windows) and Apple (iOS and OS X) -- also have the most power over what is possible for EMM because of how they are evolving their platforms. "They'll put in APIs that say 'this is the way you do device management.' And then they open those up to vendors in that space," he says. As a result, functionality becomes commoditized across EMM vendors.
We asked readers what MDM features matter most to their organizations as they are evaluating EMM tools in the next 12 months. Auditing, monitoring and reporting ranked first with 61%, followed by certificate and credential distribution, device and data encryption, password policy, remote wipe/lock and VPN support at 40%. Other key MDM features were important to about one-third of readers.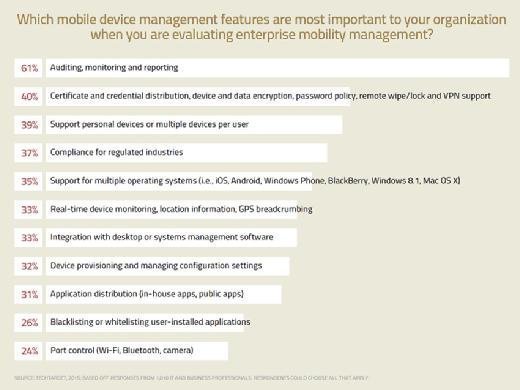 Although the field of EMM vendors seems fairly crowded at the moment, "the market is starting to contract through acquisition, a sign that mobility is no longer a specialty play but a core requirement that enterprise IT vendors such as IBM and Citrix must offer," says Phifer. "Today's market leaders gained traction by addressing a broad range of mobile devices and capabilities, providing a single-pane-of-glass management."
VMware AirWatch was the number-one pick by respondents across the board for EMM tools, including both MAM and MDM. Close to one-third, or 31%, reported they were considering AirWatch for EMM, followed by MobileIron at 20%. AirWatch also had the highest installed base among those surveyed at 26%.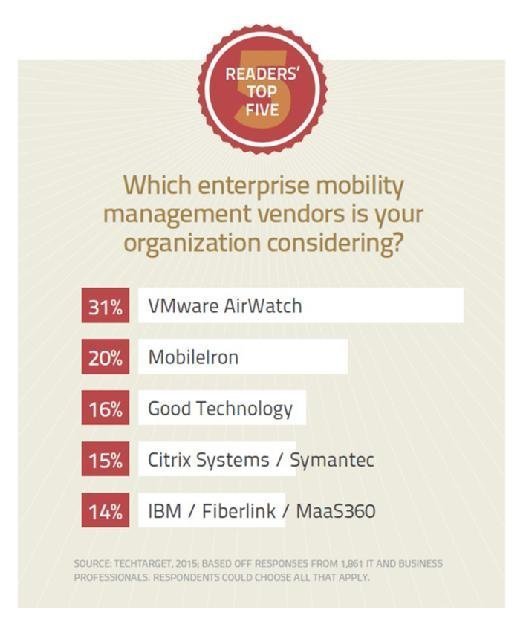 AirWatch, acquired by VMware in 2014, offers a full complement of EMM tools, and supports devices including smartphones, tablets, PC and laptops, even printers and other peripherals. Operating system support includes Apple's OS X and iOS, Android, Windows and BlackBerry. AirWatch can be used to manage secure mobile browsing, management of deployment and support of mobile applications, and provides flexible containerization for keeping enterprise data safe, and separate, on BYODs; it also includes a central admin console from which all devices can be managed, with over-the-air device enrollment, configuration and device updates.
Runner-up top pick MobileIron recently replaced its CEO, a move that some see as preparation for a possible takeover, while BlackBerry, the former enterprise favorite, bought Good Technology last year in an attempt to regain market share with improved cross-platform support.
Staying on top of developments
As for the technologies to watch in the EMM segment, "it's not just about emerging tech, it's about merging tech," says Kane. "There are many different reasons for EMM," he says, but mostly, it's a way "to secure and manage those devices that are going to be used to get company resources."
To start with, companies adopt some form of MDM, but EMM tools are used for managing and securing all the mobile interactions that take place in and beyond a company. "That means a layer of device security, a layer of application security and usually a secure file-access content container," says Kane.
Even application distribution, which is still new to many enterprises, garnered an impressive 31% share as an important feature for EMM among readers. "We'll probably see a need for more usage of functionality that already exists, like an enterprise app store, and self-service options for employees to get what they need," Kane says.
Finally, the top vendors listen to customers and improve their product offerings, rather than expecting customers to adapt to their EMM, according to Phifer: "When managed containers created barriers that workers had to jump around while leaving potential data leaks, [these companies] found ways to apply context so that enterprise apps can share data securely without relying on workers to avoid mistakes."
This was last published in
March 2016
Dig Deeper on Mobile security threats and prevention