 Defending the digital infrastructure

iSTOCK/GETTY IMAGES
Evaluate
Weigh the pros and cons of technologies, products and projects you are considering.
Messaging
2007 Readers' Choice Awards Email, IM and VoIP secuirty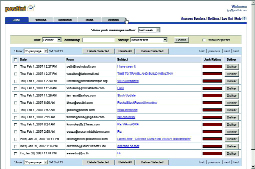 GOLD | Postini Perimeter Manager
Postini
Price: $15 to $20 per user

Postini Perimeter Manager's gold medal in the messaging category is a victory for security sold in an on-demand model.
The product safeguards enterprises from malicious email and instant messages without the need for software installations, hardware deployments or on-site configuration. Readers lauded the product's uptime, noting that outages were kept to a minimum. The on-demand model results in cost savings, and it's headache free, says Sundar Raghavan, Postini vice president of solutions marketing.
"You can manage policies in one central location in a Web browser with a check of a box," Raghavan says. "Once a link is established with our customers, we track all email and IM messages in real time and they're archived in our world-class data centers."
The company started in 1999 and quickly gained momentum around its on-demand model for secure email, archiving and spam-blocking features. Perimeter Manager blocks spam, viruses and phishing attacks. The platform provides filtering, multiple redundant layers of threat protection, and administrative controls to manage messages and enforce policy.
Archiving also helps companies meet more stringent federal discovery rules around electronic data, Raghavan says. The new rules, which went into effect Dec. 1, require companies to keep track of email, instant messages, BlackBerry messages and other electronic data that could become relevant to a federal court case.
Postini's archiving system gives employees a personal archive, which provides access to email and IM chat searching. Searching also extends to file attachments that may have been exchanged, Raghavan says.
More Postini customers are also choosing to add Perimeter Manager instant messaging security features to their lineup. The IM extension stops IM-borne worms, viruses and spim from reaching the network. Administrators can also set IM access policies, control outbound IM file transfers, filter conversations for inappropriate or sensitive content, and archive instant message sessions for searching and retrieval. The software uses integrated filters from Symantec to filter spam and spim and block malicious URLs. Perimeter Manager is also automatically updated every minute, without interaction from IT staff. In addition to IM, Raghavan sees VoIP and video conferencing security to be in Postini's future product set.
---

SILVER | Microsoft Antigen
Microsoft
Price: $10.50 per user

When Microsoft acquired Sybari Software in 2005, security pros wondered whether it would lead to the demise of Sybari and its flagship Antigen email security product. Microsoft, however, hasn't tinkered much with it because of strong interoperability with Microsoft Exchange. Antigen, which finished second in the messaging category, has been rebranded and wrapped into Microsoft's Forefront line of security products. The software uses a layered, multiple scan engine approach and is integrated with Microsoft Exchange, SharePoint and Live Communications Server. Antigen provides server-level antivirus, antispam and content-filtering features. The software protects Exchange 2000 Server, Exchange Server 2003, SharePoint Portal Server 2003 and Windows SharePoint Services 2.0.
---

BRONZE | IronPort C series, X1000
IronPort Systems
Price: $3,000

IronPort says its Reputation Filters, a key component of its C series and X1000 email security appliances, block 80 percent of spam at the connection level. The antispam scanning feature also blocks unwanted messages by reviewing the context of a message, including its construction method and the reputation of the sender. It also has a built-in URL scanning feature that investigates URLs within a message body to assess trustworthiness. Like most of its competitors, IronPort software is automatically updated to eliminate manual tuning and maintenance. Administrators can also configure the software to set user- and group-specific policies. End users can access spam digests to check and manage messages flagged as spam.
Cisco Systems, which acquired IronPort in January, says IronPort will be a separate business unit, and its features eventually integrated into Cisco's network security platform strategy.
In the trenches

Taking aim at IM security
Securing IM takes on many forms, from investments in enterprise-class IM clients, to outright prohibition of IM use.

Security pros are grappling with ways to make sure critical corporate data doesn't slip beyond the company firewall through the growing use of instant messaging (IM) clients in the workplace.
Regulatory pressure to archive messages is also forcing enterprises to extend their messaging security investments--limited today to inbound and outbound email--to IM. Some firms are deploying enterprise-class IM clients, others have initiated strict controls and policies to warn employees of unauthorized use, and others are outright banning IM clients.
"We've done our best to educate people in terms of appropriate use of IM clients, but everybody uses their commercial IM product and they use it all over the place," says Chris Ranch, director of network architecture at Affinity Internet. This year the Web and e-commerce vendor plans to introduce its 275 employees to an enterprise messaging system that encrypts and stores IM conversations on company servers.
"IM security is absolutely critical," Ranch says. "We want to gain control without pulling the plug on everybody."
Security pros are looking for products that detect and block spam over IM (spim) as well as phishing attempts, viruses and spyware in messaging traffic. Archiving chat conversations and the ability to build comprehensive reports with messaging data also are needs. Experts say many companies are turning to enterprise-class IM clients with fully integrated security features.
Jeff Carnahan, a messaging solutions architect at a Midwestern bank, says his company has been in control of its instant messaging security since it deployed IBM Lotus Sametime software in 1999. It started with 4,000 employees using IM, but now the bank's 50,000 employees have access to the IM client strictly for internal communications, he says. It also deployed archival and storage software from FaceTime Communications.
"There's definitely some concern about chat sessions, but the benefit of internal instant communications has been more of an advantage than a disadvantage," Carnahan says.
Disintegrating employee productivity forced Chad Richards, IT director at Riverton, Utah-based Stampin' Up!, a seller of wood-mounted rubber stamps and accessories, to pull the plug on IM use. After reviewing company chat IM logs, Richards says that one of 10 messages were legitimate work-related chats.
"While I see a lot of potential benefits, distractions and difficulties in managing IM far outweigh the benefits," Richards says. "It took a constant policing effort, and it had a negative impact throughout the company."

Dig Deeper on Email and Messaging Threats-Information Security Threats