Share this item with your network: Defending the digital infrastructure

iSTOCK/GETTY IMAGES
Evaluate
Weigh the pros and cons of technologies, products and projects you are considering.
Securing SharePoint: SharePoint security best practices
SharePoint has become ubiquitous in the enterprise, but organizations can overlook security. Learn SharePoint security best practices in this article. By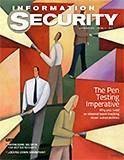 With a Google search and one minute of running one of his SharePoint hacking tools, it doesn't take long for security researcher Fran Brown to find exposed SharePoint administrative interfaces for a state health and human services department. The exposure – which could allow an attacker to add users and change information -- is far from unusual. Brown, managing partner at security consulting firm Stach & Liu, finds this sort of stuff all the time. "I'm surprised at just how much SharePoint is out there and how much is vulnerable," he says.
Editor's Note
Microsoft's SharePoint application has become a ubiquitous collaboration tool in the enterprise but securing it can be a tricky process. And all too often, companies fail to properly secure their SharePoint deployments, security experts say. In fact, a survey of SharePoint users released earlier this year by European security vendor Cryptzone showed that lax security practices were rampant among those polled. In this special report, we examine some of the issues surrounding SharePoint security and provide tips on SharePoint security best practices.
You can also read the companion piece to this feature: Three steps for securing SharePoint
Microsoft's Web-based collaboration tool has become pervasive in the enterprise, but experts say companies often overlook SharePoint security. Eager to enable collaboration among employees and third parties, organizations can neglect to lock down user access and take other steps to secure all their SharePoint instances. Since these SharePoint repositories commonly contain sensitive corporate information, that's risky business.
"I don't see SharePoint being secured nearly enough," says Michael Davis, CEO of Savid Technologies, a Chicago-based IT security consulting firm. "Think about what SharePoint does – by definition it's where all your crown jewels are."
Securing SharePoint can be complicated – there are a lot of aspects to it -- but security experts cite several top SharePoint security best practices to focus on, including access control strategies, testing for exposures, and user education.
Dig Deeper on Productivity apps and messaging security