Evaluate
Weigh the pros and cons of technologies, products and projects you are considering.
Security B-Sides conferences: Hub of collaboration
Security B-Sides conferences have expanded the confines of traditional security conferences. From unique venues to the insistence that attendees participate, founders Mike Dahn, Jack Daniel and Chris Nickerson explain how these events have broken away from mainstream security conferences and how they serve the security community.
The B-side of a record was always our favorite. They were the artist's edgy, artistic and passionate songs. The songs that may not appeal to the masses or be en vogue, but truly showed the artist in their natural light. The A-side was for record producers and mass media, but the B-side was where the real band lived. That is exactly how we feel about Security B-Sides conferences.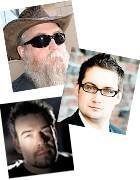 Jack Daniel, Mike Dahn and Chris Nickerson
The events, locations and talks are not just about what's hip. B-Sides conveys the art and passion of the participants who don't always get airplay via mass media channels. B-Sides talks are a conversation between the speaker and the audience to get a fully engaged experience. B-Siders have removed the barriers to entry and castes that exist in the conference setting, and replaced them with communication, collaboration, innovation, and choice.
This choice is the heart of each event. While mainstream conferences have a templated method of delivery, each B-Sides event is unique as evidenced by the "Don't Mess with Security" theme in Texas to "Berlin Sides" in Germany. Each event is customized to the local people who participate in putting it together. B-Sides enable this choice while maintaining common goals and values, including:
Each event is 100 percent free to all participants. This enables a diverse audience of ideas and communication. When people ask what the demographics of a B-Sides event are, we do not talk about career titles. Instead, we say the one thing participants have in common is to engage and discuss. If speakers come with a great idea, that will be amplified. If speakers come with a bad idea, that will be amplified.
Events are positive collaborations - the goal is to elevate, not denigrate. These events follow the mantra: "Do no harm." Though few are trying to boil the ocean, we see these events as another way of connecting people and ideas to help raise the bar and elevate the conversation. We can all see further when standing on the shoulders of giants.
We love our benefactors, but there are no vendor booths or expos. Sponsors participate just like everyone else. Some provide capital; others bring the beach towels. We tell our sponsors the same message we tell everyone, that the best way to obtain value from a B-Sides event is to have your people participate.
B-Sides events are more a community gathering than just a conference. It is the quintessential "commons" where people can connect and collaborate on ideas, on-stage, in the kitchen or around the pool. Participants attend to build relationships. These relationships enable a natural flow of information beyond just the one-hour speaker time block.
Security B-Sides
KUDOS:
Founded in 2009 by Mike Dahn, Jack Daniel and Chris Nickerson
First event: Bsides Las Vegas, July 29-30, 2009
40 events worldwide to date
Events have been held on six continents
B-Sides provides a framework for security professionals to organize and build community events. Attendees are considered participants and encouraged to collaborate with session presenters and network with other participants.
If a rising tide raises all ships, then this "commons" enables the flow of information and relationships that help raise the level of conversation within the security community. We share many of the same goals, but have experienced very different ways of achieving them. The more ideas we have, the better the solution becomes.
Creating a free and open commons requires pushing the expectations of everyone involved. Instead of hosts and attendees, everyone at a B-Sides event is a participant. The audience and speaker participate in a conversation. Volunteers, organizers and sponsors participate and build upon each other's resources and experiences. The success of such a commons is based on the participation of everyone involved. Similarly, security should not be the role of one department in an organization, but rather a collaboration between everyone within an organization. Security can only be its best when everyone is a participant in the process.
People attend events for the community and leave wanting to further connect their own local community. As B-Sides conferences grow, we see participants customize and localize their event. Some are rowdy while others are tame. Some are more formal, while others are in a pool somewhere in the desert. There is no universal template or guide book to security. It takes the customized participation of everyone involved. There are no innocent bystanders or collateral damage in security. Everyone within an organization is affected and as such they should all be involved in the solution.
From boat to boardroom, B-Sides enables community participation that raises the bar of security in the industry and the organizations those people represent.

The Security 7 Awards recognize the efforts, achievements and contributions of practitioners in the financial services/banking, telecommunications, manufacturing, retail, government/public sector/non-profit, education and health care/pharmaceutical industries. Click here to learn more about the Security 7 Awards and to see a list of all the winners.
Dig Deeper on Security industry market trends, predictions and forecasts