 Defending the digital infrastructure

iSTOCK/GETTY IMAGES
Evaluate
Weigh the pros and cons of technologies, products and projects you are considering.
ZENworks Endpoint Security Management 3.5 product review
Novell's ZENworks Endpoint Security Management 3.5 is evaluated on its configuration and management, policy control and reporting capabilities. It offers the ability to control applications, protocols and removable storage devices. It also delivers encryption to files and folders, and network access control to ensure protection levels are current.
ENDPOINT SECURITY

ZENworks Endpoint Security Management 3.5
REVIEWED BY SANDRA KAY MILLER

Novell
Price: $69 per device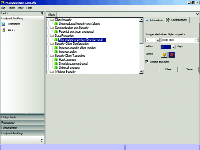 ZENworks Endpoint Security Management 3.5 (formerly Senforce Endpoint Security Suite) is a comprehensive endpoint security management solution that lets organizations control applications, protocols and removable storage devices. It delivers encryption to files and folders, and network access control to ensure protection levels are current.
| | |
| --- | --- |
| Configuration/Management | B- |
We installed ESM's three components--Policy Distribution Service, Management Server and Management Console--on a server. Larger deployments require that the Management Server and Policy Distribution Service be installed on separate servers.

Installations were straightforward; the client required us to choose between obtaining policy updates through ESM or files. The Policy Distribution Service checks what is sent out against the Management Server, which interfaces with directory services. Password protection for the client prevents removal and tampering.

Setting up the server required extensive networking, security and SQL knowledge.
Multiple installs on secured machines connected to the server are possible, but a Web-based interface would make configuration and management easier.

The console allows navigation through the taskbar and expandable submenus, but we'd prefer to see items like reporting and alerts accessible through a click.




ESM earned top marks for the granularity and scope of security and control policies. There are extensive policy options for wireless and wired networks, communications hardware, firewall settings for multiple locations, antivirus/spyware and Micro- soft patches. You can use advanced scripting rules for customized rule sets and set features and alerts specific to regulatory actions.

Policies are distributed via SSL through a Web services application, pulling users and groups from directory services. Policies are easily edited and instantly updated.




Alerting and reporting are tough to locate, hidden in the Management Console's Tasks menu.

Alert thresholds are adjustable. For example, we enabled an alert if data in excess of 5 GB is copied to removable storage media or device.

ESM offers 10 reporting categories--adherence, alert drill-down, endpoint activity, encryption solution, client self-defense, integrity enforcement, outbound content compliance, administrative overrides, endpoint updates and wireless enforcement. If you want to create custom reports, however, you'll have to use an ODBC-compliant app such as Crystal Reports.
While ESM provides a multitude of security and control features in a single suite, there are a number of features available in similar products we would like to have seen. For instance, we could not assign storage device control policies when encryption for the particular device was required. Also, an additional USB Drive Scanner Tool had to be installed separately from the initial installation to be able to scan and identify devices attached to USB ports.

Despite those shortcomings, policies were automatically distributed to clients. ESM blocked noncompliant clients that were assigned specific requirements (such as up-to-date antivirus signatures).




ZENworks Endpoint Security Management is a comprehensive solution for managing and enforcing security policies on networked devices, regardless of their location and connectivity.



---
Testing methodology: The single-server installation was deployed on a Windows-based network behind a firewall. Clients were installed on a variety of endpoint systems located within and outside of the firewall. Policies were enabled for a variety of scenarios, including remote and mobile endpoints.
Dig Deeper on Secure remote access