News
Stay informed about the latest enterprise technology news and product updates.
Who's Who in Infosec: Marcus Ranum
Who's Who in Infosec is an ongoing series featuring profiles of security professionals and their contributions to the industry.
Who's Who in Infosec is an ongoing series featuring profiles of security professionals and their contributions...
Continue Reading This Article
Enjoy this article as well as all of our content, including E-Guides, news, tips and more.
to the industry. SearchSecurity.com will recognize one of these individuals with the SearchSecurity.com Trailblazer Leadership Award at Security Decisions 2003. SearchSecurity.com members are invited to submit nominations for the award through Aug. 1, 2003.
---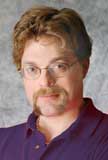 Marcus Ranum has been active in the Unix networking and security community for the last 14 years, as a software engineer, system and network manager, and consultant. He is the principal author of several major Internet firewall products, including the DEC SEAL, the TIS Gauntlet and the TIS Internet Firewall Toolkit. In 1997 he founded Network Flight Recorder, Inc., one of the leading intrusion-detection product companies, and acted as its CEO, CTO and chairman until 2001. Marcus has been managing Unix systems and network security for over 13 years, including configuring and managing whitehouse.gov during its first year of operation.
Marcus is a frequent speaker at conferences, and he teaches a number of technical tutorials for USENIX and SANS on diverse topics such as firewalls, Unix internals, security policies and risk assessment, Unix system and network performance tuning, and Unix application design. He has been giving tutorials for more than six years and is one of the top-rated speakers at many national conferences. He has also served on the program committee for a number of conferences, including SANS, USENIX, and the USENIX security symposia.
Marcus lives in Morrisdale, Pa., with his wife Katrina, two horses, 2 dogs and a varying number of cats, usually between six and ten. Marcus is addicted to western boots, motorcycles, guns, computer graphics and launching model rockets. Other than playing with and programming computers, his favorite way of wasting time is shooting and printing his own photographs.
Browse Marcus' security-related publications, editorials and source code.
Dig Deeper on Security industry market trends, predictions and forecasts