News
Stay informed about the latest enterprise technology news and product updates.
Editor's desk: The future of 'Information Security' magazine
Lawrence Walsh explains why the combo of "Information Security" and SearchSecurity.com is the industry's No. 1 trusted infosec resource.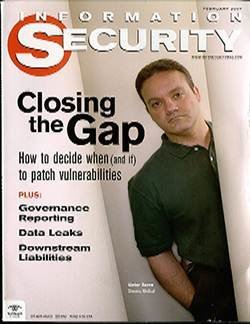 If you're anything like me, you probably picked up this month's issue, saw the new cover design and immediately began flipping through the pages. Yes, we've changed virtually everything about Information Security -- the most comprehensive redesign of the magazine since its inception in 1997. But it's more than a new look; it's a whole new package that's focused on the specific aspects of security that you need in your everyday work lives. The visual and design changes are tightly bound to a new editorial focus.
The editors of Information Security thought about the workings of infosecurity programs and how managers address their security concerns. We devised the "4 Ps" of security philosophy -- people, policies, processes and products. We know security managers are starved for information, guidance and intelligence, so the 4 Ps help us direct our coverage in new feature categories:
Bakeoffs: The head-to-head testing of leading security solutions.

Techknowledge: in-depth examinations of technologies, solutions and methodologies.

Exposes: big picture articles that provide new insight and approaches to vexing security problems.

Policy & process: experts' guides to better security practices and management techniques.

People: profiles of the individuals and groups who make security happen.
The changes don't end in features.
Our upgraded Products section now sports reviews based on hands-on evaluations. Our tech editors will break down the functionality and feature sets of new solutions. The detailed reviews will tell you everything you need to know in making your security purchasing decisions.
Our new NewSCAN (Security Commentary, Analysis and News) section provides nuggets of information, intelligence and insight into contemporary issues affecting security managers and practitioners. You will be able to use NewSCAN to quickly catch up on the most important issues and news stories.
We've remade the magazine to make it visually pleasing, easy to read and graphically informative. As much as the words, we want the photos, charts and figures to tell a story. As you read each issue, you'll to be able to glean the information you need quickly and clearly.
Information Security is no longer a stand-alone publication. Since our acquisition last summer, Information Security has become the vanguard of TechTarget's integrated Security Media Group. Look for pointers and references in articles to content at SearchSecurity.com, our online news and Webcast operation, and Information Security Decisions, our twice-yearly conference. Combined, Information Security and our online offerings will provide you with the best security guidance and intelligence anywhere.
You've probably also noticed a changing of the guard on this page.
Andrew Briney, a recent inductee to the ISSA Hall of Fame, is now editorial director of Security Media Group. His monthly column, which appeared in this space, now anchors our Logoff slot on the last page of the magazine.
With this issue, I assume the role of executive editor. My primary responsibilities are overseeing the magazine's production and editorial operations.
These are all tremendous changes, but they're only the beginning, as Information Security reasserts its commitment to being a leader in and a contributor to the infosecurity community. After all, we exist to serve you -- the security practitioner.
---
Lawrence M. Walsh is executive editor of Information Security.
Dig Deeper on Security industry market trends, predictions and forecasts