Information Security Jobs and Training
Information for job-seekers, including salaries for jobs in information security, security training, exam program and courses, career opportunities for women, advancement and promotion strategies plus qualifications for becoming a CSO, CISO or executive.

Download this free guide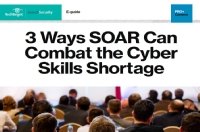 3 Ways SOAR Can Combat the Cybersecurity Skills Shortage
What are some of the strategies that your organization has implemented to help combat the cybersecurity skills gap? Mike Chapple, senior director of IT at University of Notre Dame explains how log processing, threat intelligence and account lifecycle management can help alleviate the shortage of qualified pros and have teams work smarter, not harder.