Sarbanes-Oxley Act
The Sarbanes-Oxley Act of 2002 is a federal law that established sweeping auditing and financial regulations for public companies.. See complete definition.

Download this free guide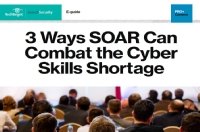 3 Ways SOAR Can Combat the Cybersecurity Skills Shortage
What are some of the strategies that your organization has implemented to help combat the cybersecurity skills gap? Mike Chapple, senior director of IT at University of Notre Dame explains how log processing, threat intelligence and account lifecycle management can help alleviate the shortage of qualified pros and have teams work smarter, not harder.