Evaluate
Weigh the pros and cons of technologies, products and projects you are considering.
Game-changing enterprise authentication technologies and standards
An authentication revolution is in the making. Learn about next-generation authentication methods and technologies, and how emerging new standards can enable more secure enterprise authentication.
Introduction
The problem with passwords? There are so many it's hard to know where to start! That's why the IT industry is working to develop new authentication technologies and standards. Key new developments include emerging authentication methods in areas such as biometrics, and coordinated industry standards efforts like the Fast Online Identity (FIDO) Alliance.
This Security School, featuring expert Michael Cobb, gives participants the knowledge they need to understand what the coming revolution in authentication means for enterprises charting long-term authentication roadmaps.
Watch the video, listen to the podcast, read the tech tip then take the quiz to see how much you have learned. Passing the quiz earns you one CPE credit from (ISC)².
View our Security School Course Catalog to view more lessons eligible for CPE credits.
About the instructor: Michael Cobb, CISSP-ISSAP, is a renowned security author with over 20 years of experience in the IT industry. He has a passion for making IT security best practices easier to understand and achievable. Visit his website hairyitdog.com

Download this free guide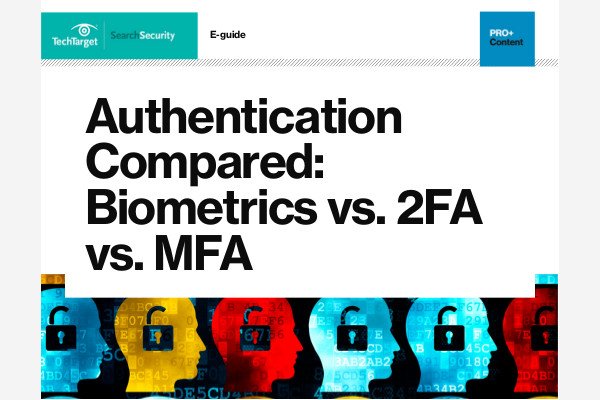 Authentication Compared: Biometrics vs. 2FA vs. MFA
Which authentication method is better? Experts Craig Mathias, Michael Cobb, and Randall Gamby weigh in on the advantages and disadvantages of 3 different authentication strategies: biometrics, 2FA and MFA.
By submitting your personal information, you agree that TechTarget and its partners may contact you regarding relevant content, products and special offers.
You also agree that your personal information may be transferred and processed in the United States, and that you have read and agree to the Terms of Use and the Privacy Policy.
1

Authentication

-
Learning Links
The long and often-troubled reign of password-based authentication may be coming to an end as new online authentication methods emerge. Many in the IT security industry are cautiously optimistic, hoping that the promise of securing the online environment effectively without making the process more difficult for users may soon come to fruition. In the following lessons, expert Michael Cobb reviews the failings of the password system, the authentication technologies and standards designed to improve the state of authentication and the role of the Fast Identity Online (FIDO) Alliance in this process. Watch Cobb's presentation, read the tip, listen to the podcast and then "authenticate" your newly acquired knowledge with our quiz, and you'll be ready for the fast-moving authentication revolution.