Get started
Bring yourself up to speed with our introductory content.
Knock advanced malware out cold with network anomaly detection
The ability to detect network anomalies is now essential in the battle against advanced malware. In this Security School, expert Peter Sullivan explains why, and how to go about employing anomaly-detecting tools.
Introduction
As if the emergence of Stuxnet, Flame and Duqu weren't enough, the recent discovery of Regin makes it clear that advanced attacks -- specifically, those launched by nation-states -- are using malware that goes undetected inside a network for months, or sometimes years. The problem is only getting worse, and our government isn't coming to the rescue.
In this Security School, Peter Sullivan explores why enterprises are failing to detect Regin-style advanced threats, and discusses how to realign people, processes and technology to reduce the risk by giving enterprises a fighting chance. The key, he says, is network anomaly detection.
Watch the video, listen to the podcast, read the tech tip then take the quiz to see how much you have learned about advanced malware. Passing the quiz earns you one CPE credit from (ISC)².
Take the quiz to check your knowledge of advanced malware.
View our Security School Course Catalog to view more lessons eligible for CPE credits.
1

Articles

-
Take out advanced malware by detecting network anomalies
In these two articles, Peter Sullivan focuses on why network anomaly detection is crucial today, and explains what tools accomplish the task.
Tip
Traditional perimeter defenses are no longer enough; network anomaly detection tools are now essential in the battle against advanced malware. Continue Reading
Tip
Learn how advanced malware evades perimeter defenses and why tools to detect network anomalies are essential to keep your network secure. Continue Reading
2

Presentation

-
New malware threats need advanced defenses
In this presentation Peter Sullivan explains how detecting advanced malware is critical to maintaining enterprise network security.
Video
Advanced malware is stealthy and deadly. Learn how defend your network and data against it with tools that provide advanced malware detection capabilities.

Download this free guide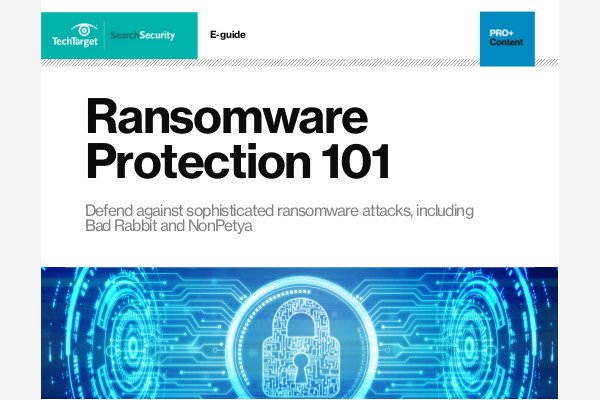 Ransomware Defense Expert Guide
Ransomware attacks are continuing to evolve, both in sophistication and numbers. Inside this guide, learn from security experts as they discuss 5 ways to prevent ransomware through network security. Additionally, uncover the differences between the infamous Bad Rabbit vs. NotPetya attacks.
3

Audio

-
Advanced malware defenses require a new focus
Advanced malware demands a focus now on the network interior, not just the perimeter. Here's why.
Podcast
In this podcast learn how advanced malware works and why network traffic analysis is essential to protect your enterprise's network. Continue Reading