Get started
Bring yourself up to speed with our introductory content.
CISSP Domain 6: The importance of security assessments and testing
While it may not be the sexiest part of the job, regularly performing security assessment and testing will help you identify otherwise unknown vulnerabilities and prevent disasters down the line.
Introduction
Urgent requests, imminent deadlines or just plain old excitement -- there are a lot of reasons why applications and services get rushed into deployment before they're thoroughly vetted for vulnerabilities. But it's up to infosec pros to pump the brakes and make sure anything entering the IT environment has undergone proper security assessment and testing, because all it takes is one line of bad code to create an exploit.
In this Security School, based on (ISC)² CISSP training material on Domain 6 of the exam -- Security Assessment and Testing -- learn about techniques and tools used to identify and resolve possible attack surfaces, as well as the importance of testing software for vulnerabilities early and often. In his video, expert Adam Gordon explains how infosec pros can partners with software teams to ensure security assessment and testing is performed before, during and after application development. In addition, Gordon provides a comprehensive overview of different types of security testing techniques in his tip.
Once you've reviewed the parts of this Security School on security assessment and testing, take the quiz to see how much you have learned about vulnerability assessment, threat modeling, code review and more.
View our Security School Course Catalog to view more schools.
CISSP® is a registered mark of (ISC)².

Download this free guide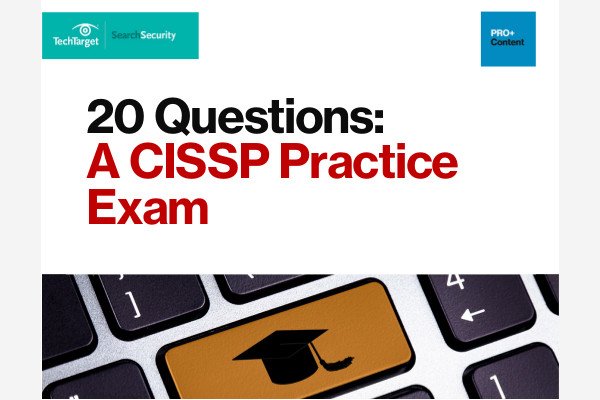 20 CISSP Prep Questions: Test Your Knowledge
Preparing for the CISSP exam may feel overwhelming, so let us help you! Access 20 official prep questions from our CISSP Practice Exam to test your knowledge today.
By submitting your personal information, you agree that TechTarget and its partners may contact you regarding relevant content, products and special offers.
You also agree that your personal information may be transferred and processed in the United States, and that you have read and agree to the Terms of Use and the Privacy Policy.
1

Learning links

-
Prepare for Domain 6: Security assessment and testing
Going back to the old adage of "better safe than sorry," performing a security assessment and testing on enterprise applications and services is one of those tasks you want to ensure is a regular part of your IT organization's workflow. Otherwise, overlooking this step can have drastic consequences.
Tip
Software bugs are more than a nuisance. Errors can expose vulnerabilities. Here's the good news: These security testing tools and techniques can help you avoid them. Continue Reading
Video
Security and function don't have to compete. By working together, information security pros and systems administrators can build better, more secure software. Continue Reading
Quiz
Domain 6 of the CISSP exam tests how well you understand the security assessment and testing strategies needed to recognize, prevent and remedy vulnerabilities in software. Continue Reading