Problem solve
Get help with specific problems with your technologies, process and projects.
2006 Products of the Year: Antispyware
Information Security and SearchSecurity readers selected the best desktop and gateway enterprise antispyware products of 2006.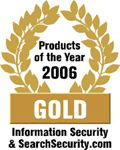 Ad-Aware SE Enterprise Edition
Lavasoft, www.lavasoft.com
As spyware becomes increasingly prevalent, antispyware tools are becoming more a necessity than a luxury. For this and many other reasons, we now recognize antispyware in our Information Security/SearchSecurity.com Products of the Year.
In today's environment users can deploy multiple antispyware tools to catch malware and protect individual systems. Lavasoft's Ad-Aware SE Enterprise Edition makes great strides in addressing both issues. Its ability to stop spyware and its central management tool earn our gold medal in antispyware.
Long familiar to home and office users for its free and professional versions, Lavasoft has stepped up to the plate with an enterprise security product.
Ad-Aware SE Enterprise Edition is essentially Lavasoft's Ad-Aware Professional Edition bundled with Ad-Axis Management Console. Ad-Aware SE Professional Edition runs on network clients and features customizable scan scheduling, quarantine support and automatic reference file updates on startup.
Ad-Axis Management Console provides centralized management for each client; you can centrally manage software updates and client scans.
More information on spyware

Visit our Spyware Learning Guide to learn what spyware is and advanced techniques for protecting workstations.

Take our quiz and find out if spyware is getting the best of you.

For additional information on beating spyware, visit our resource center.
One of the problems with protecting systems from spyware is defining exactly what you should be defending against. Ad-Aware helps meet that challenge head-on by protecting against a host of malware, including browser hijackers, data miners, dialers, DLL injection, keyloggers and tracking cookies.
And, Ad-Aware provides real-time protection with Ad-Watch. Running silently in the background, Ad-Watch aims to catch malware before it integrates into systems. Code Sequence Identification technology helps detect both known and unknown variants through the use of definition files and by proactively scanning clients for spyware-like behavior. Once spyware has been identified, you can then block cookies and pop-up ads, and lock startup sections of the registry. Organizations also have the ability to edit the included pop-up blacklist and configure Ad-Watch to permit changes to the registry.
In short, Ad-Aware SE Enterprise Edition gives enterprises what they need in antispyware -- the power to stop malware from a central point of control.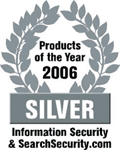 eTrust PestPatrol Anti-Spyware
CA, www.ca.com
We miss PestPatrol's familiar bugs crawling across our monitors. But as one of the first enterprise-level antispyware products, PestPatrol continues to win strong user support after its acquisition by CA, especially for performance, with praise for security and overall quality.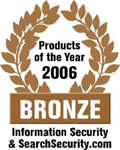 <font=2>McAfee AntiSpyware Enterprise
McAfee, www.mcafee.com
It's not just about viruses -- McAfee shows it's more than a power player in the AV market, demonstrating leadership against spyware, receiving good user ratings for security, performance, feature set and overall quality.
Dig Deeper on Security vendor mergers and acquisitions