Problem solve
Get help with specific problems with your technologies, process and projects.
2006 Products of the Year: E-mail security
Information Security magazine and SearchSecurity.com readers selected the top three e-mail security products of 2006.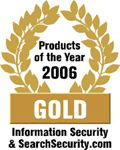 IronMail
CipherTrust, www.ciphertrust.com

After winning users' trust, CipherTrust's IronMail has won a gold medal in e-mail security. Not only did the product come out on top, but it also received the highest overall score of all 60 finalists in our Products of the Year.

The reason is clear: IronMail offers superior quality, robust performance and a comprehensive feature set wrapped into one tight appliance.

For Franklin Warfield, senior messaging administrator for Cox Communications, it was CipherTrust's approach that won him over when he was evaluating e-mail appliance solutions more than two years ago. He chose IronMail because CipherTrust wasn't just interested in addressing the latest threat, but rather looking at spam holistically.

"The company was way in front of others. To them, spam is a threat on your network, not just some annoyance," says Warfield, who manages e-mail internally for the Atlanta-based company's 30,000 employees.

"And, it doesn't rely on just one test, but looks at thousands of attributes."

Before IronMail, Warfield was spending 20 hours a week maintaining content lists. Today, time spent has dropped to three hours a week while the number of e-mails has grown from 1.5 million to 40 million per month.

CipherTrust has continued to raise the bar in terms of e-mail security, with a slew of introductions this year enabling security professionals to protect against unauthorized use of instant messaging, personal Web mail, blogs and VoIP services such as Skype, with its IronIM, IronNet and IronMail Edge. The company has also bolstered its analysis and reporting and compliance capabilities. To keep its customers abreast of the latest attacks, CipherTrust has enhanced TrustedSource, its global threat correlation engine offering spam-blocking rates at close to 100%. Meanwhile, its ZombieMeter tracks botnet activity worldwide.

"CipherTrust's technical specifications actually matched its literature," says Donald Wasylyna, manager of information security for the H. Lee Moffitt Cancer Center and Research Institute. "There weren't services that conflicted with one another. Typically, you'll have five different features but not all five features can be used at the same time."

Wasylyna also finds the company's support and customer responsiveness to be excellent. "IronMail was one of the few pieces of security infrastructure that was a true win for us."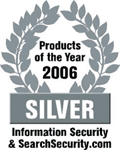 Barracuda Spam Firewall
Barracuda Networks, www.barracudanetworks.com
This fish devours spam and preys on viruses and spyware before they can prey on you. Barracuda Spam Firewall gets strong approval for performance, security and overall quality.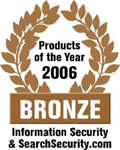 Symantec Mail Security 8200 Series
Symantec, www.symantec.com
Combining the power of Symantec's leading antivirus and Brightmail antispam, the 8200 series of appliances is very highly regarded for overall quality.







Dig Deeper on Email and Messaging Threats-Information Security Threats