Problem solve
Get help with specific problems with your technologies, process and projects.
2006 Products of the Year: Wireless
Information Security magazine and SearchSecurity.com asked their readers to chose the best wireless products. Here's what you told us.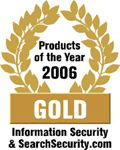 Unified Wireless Network Solution
Cisco Systems, www.cisco.com
The networking giant may soon be the security giant as well, at least when it comes to keeping wireless networks safe. Cisco Systems' Unified Wireless Network Solution earned top honors grabbing the gold medal in wireless.
Unified Wireless Network Solution is a standards-based wireless LAN security solution designed specifically for large organizations. The offering mitigates sophisticated passive and active wireless LAN attacks, works with a range of client devices and provides reliable, scalable, centralized security management. Additionally, it's intended to keep the IT staff burden low with administration features that allow network admins to deploy robust yet easy-to-manage security across a network.
The majority of respondents to the Products of the Year survey rated the product good/excellent in all categories, with its marks for overall quality particularly strong.
Other product highlights include support for industry security standards, such as IEEE 802.11i; the Wi-Fi Alliance's Wi-Fi Protected Access (WPA) and Wi-Fi
More information on wireless security

Unplugged doesn't have to mean insecure. Learn how to secure WLANs with this PowerPoint presentation.

Read this book excerpt on wireless LANs from Hacking for Dummies.

Learn 10 tactics for securing wireless LANs.

Check out the rest of our 2006 Product of the Year winners.
Protected Access 2 (WPA2); 802.1X support for strong, mutual authentication; and dynamic encryption key management and data encryption using Advanced Encryption Standard (AES) and Temporal Key Integrity Protocol (TKIP).

With integration in Cisco's Self-Defending Network and Network Admission Control (NAC) initiatives, Unified Wireless Network Solution allows Wi-Fi Certified client devices to provide access control via per-user, per-session mutual authentication and data privacy with strong dynamic encryption. Additionally, the offering comes with an enterprise-class IPS.

Even if a network extends beyond an organization's walls, the product can do the job, thanks in large part to compatibility with Cisco's wireless mesh solution for maintaining indoor/outdoor connectivity.

Cisco made considerable strides in the WLAN market in 2005, with a nod to its $450 million acquisition of WLAN switch startup Airespace last January. The networking giant has held the top spot in the WLAN equipment market for some time, and the latest WLAN market report from Infonetics Research found that Cisco is closing the gap between itself and wireless switch market leader Symbol Technologies.

According to Infonetics, Cisco also leads the overall network hardware and software security market with a 35% share, fueled by the growth in IPSes and network access control gear.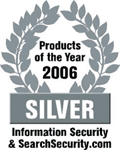 AirMagnet Enterprise
AirMagnet, www.airmagnet.com
Scanning the air like a hawk, AirMagnet's IDS/IPS product won user support for its overall quality, feature set and documentation.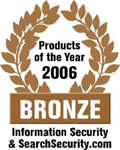 SonicWALL TZ 170 Wireless
SonicWALL, www.sonicwall.com SMBs need secure wireless, too. TZ 170 Wireless delivers 802.11b/g service, firewall and VPN. Surveyed users particularly like its performance and feature set.