IP spoofing (IP address forgery or a host file hijack) definition
IP spoofing, also known as IP address forgery or a host file hijack, is a hijacking technique in which a cracker masquerades as a trusted host to conceal his identity, spoof a Web site, hijack browsers, or gain access to a network. Here's how it works: The hijacker obtains the IP address of a legitimate host and alters packet headers so that the legitimate host appears to be the source.
Download this guide to become a Web App Security superhero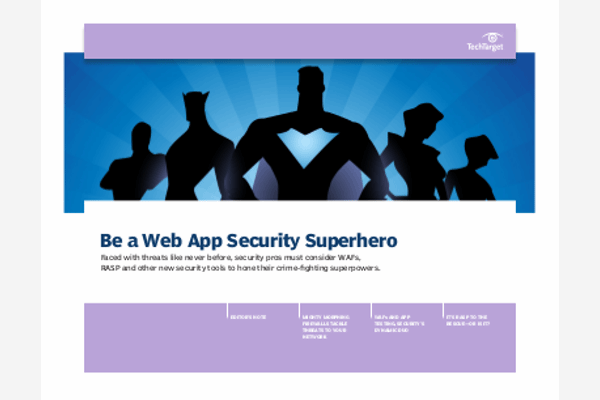 As web apps continue to face advanced attacks, protecting them requires more fine-tuning in order to match your app's distinct characteristics. Take advantage of this three part guide to access best practices for boosting your web defense and learn the latest in how to secure web apps on your enterprise network.
By submitting your email address, you agree to receive emails regarding relevant topic offers from TechTarget and its partners. You can withdraw your consent at any time. Contact TechTarget at 275 Grove Street, Newton, MA.
You also agree that your personal information may be transferred and processed in the United States, and that you have read and agree to the Terms of Use and the Privacy Policy.

When IP spoofing is used to hijack a browser, a visitor who types in the URL (Uniform Resource Locator) of a legitimate site is taken to a fraudulent Web page created by the hijacker. For example, if the hijacker spoofed the Library of Congress Web site, then any Internet user who typed in the URL www.loc.gov would see spoofed content created by the hijacker.
If a user interacts with dynamic content on a spoofed page, the highjacker can gain access to sensitive information or computer or network resources. He could steal or alter sensitive data, such as a credit card number or password, or install malware . The hijacker would also be able to take control of a compromised computer to use it as part of a zombie army in order to send out spam.
Web site administrators can minimize the danger that their IP addresses will be spoofed by implementing hierarchical or one-time passwords and data encryption/decryption techniques. Users and administrators can protect themselves and their networks by installating and implementating firewalls that block outgoing packets with source addresses that differ from the IP address of the user's computer or internal network.
Continue Reading About IP spoofing (IP address forgery or a host file hijack)
Dig Deeper on Application Attacks (Buffer Overflows, Cross-Site Scripting)
PRO+
Content
Find more PRO+ content and other member only offers, here.